Are seclusion and restraint used in your school?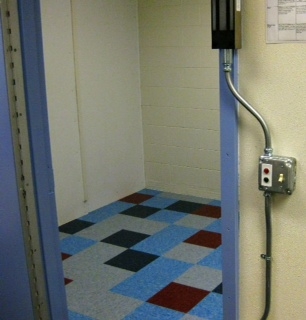 October 4, 2013
The Disability Law Center has received multiple complaints and has conducted several investigations into the use of seclusion and restraint in schools in communities around the state. We are trying to determine if schools in other communities also use these practices.
We put together this page to gather your stories, to consolidate links to some of the media coverage our recent investigations have garnered, and to discuss alternatives to the practice of secluding and/or restraining children with disabilities.
Your Stories
We welcome any information you have about:
The use of a "safe room", "quiet room", or "time out room" in a school;
The practice of physically restraining students in your community school; or,
Students who have been affected by the use of restraint and/or seclusion at school.
All contacts are confidential. You can email us here, or contact us anonymously by calling our Anchorage office at 565-1002, or from outside of Anchorage at 1-800-478-1234. You may also contact us anonymously in writing by clicking this link, which will take you to a page separate from our website through which you can submit information.

Alternatives
Some of the people we've heard from have said they believe the use of "safe rooms" or other forms of restraint and seclusion are the only way staff can keep the student, other students and themselves safe. Our investigations are not calling into question the dedication of school staff who have chosen a career working with children who have disabilities that result in challenging behaviors. Given the choice though, we believe school staff would prefer to see children in the classroom and participating in education with their peers.
Seclusion and restraint are not teaching tools. These practices are crisis interventions and should be used rarely and as a last resort. When we see children secluded and restrained 850+ times in one school year, these practices cannot reasonably be defended as an option of last resort.
With better assessments and the use of other techniques, such as Positive Behavioral Supports, the need for the use of restraint and seclusion can be greatly reduced. This would benefit not only the children and their families, but also the school staff who support them.
In the weeks to come, we will be consulting with experts in the field to pull together more information on alternatives to the current practices that are not benefiting our children. Please check back here as we will post these resources as they are developed.

Seclusion & Restraint - Conversations in the Media
KTVA, September 21, 2013:
Report finds abuse, neglect at Anchorage special needs elementary school
Alaska Dispatch, September 20, 2013:
Report: Anchorage special-needs elementary school students frequently held in isolation
Alaska Dispatch, September 24, 2013:
Are Anchorage School District's seclusion rooms just another teaching tool?
Anchorage Daily News, October 5, 2013:
State watchdog group questions Iliamna Elementary 'safe rooms'
SF Gate, October 7, 2013:
Watchdog group questions school 'safe rooms'
(this article was at the following link, but has since been removed from the SF Gate website: http://www.sfgate.com/news/article/Watchdog-group-questions-school-safe-rooms-4875652.php)
Seclusion & Restraint in Alaska's Schools
See the results of some of our investigations into these practices, including the reports below, on our news page about seclusion & restraint.
Inappropriate Use of Restraint and Seclusion at Mt. Iliamna Elementary School, September 3, 2013
DLC Investigation Finds Inappropriate Use of Restraint and Seclusion for Student with Disability at Anchorage School, December 2012
Investigation Uncovers Widespread Use of Seclusion in Two Anchorage Elementary Schools, January 26, 2012
Seclusion & Restraint in Schools - Nationally
NDRN: Department of ED Must Do More to Stop Restraint and Seclusion of School Children
March 6, 2012

WASHINGTON – In a new report released today, the National Disability Rights Network (NDRN) called on the U.S. Department of Education (ED) to do more to reduce and prevent the use of restraint and seclusion on school children.
"ED has not provided any meaningful leadership to reduce the use of restraint and seclusion − despite the fact that students are continuing to be confined, tied up, pinned down, battered and nearly killed on a regular basis," said NDRN executive director Curt Decker.
This report is the third in a series of reports on restraint and seclusion by NDRN called School Is Not Supposed to Hurt. The first two reports were issued in 2009 and 2010. Many others, including the Government Accountability Office, have reported on deaths and injuries resulting from the use of restraint and seclusion in schools.
"The examples in our report from Connecticut about scream rooms, and Kentucky where a boy was stuffed in a duffel bag, show the need for ED to take positive and strong actions," continued Decker. "NDRN calls upon ED to take a stand and protect our school children by following the concrete suggestions proposed in this report." Click here to download a PDF of the full 48-page report.